Paper Monitor: Sherlock and Messi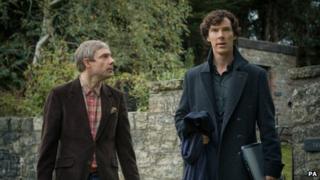 Arguing by analogy is not for everyone.
Paper Monitor's dad, for one, is not a fan.
But there are two interesting analogies in the Times' sports pages today.
Columnist Simon Barnes has spotted a connection between the TV show Sherlock and the England cricket team.
Both have gone from being "a brilliant and thrilling adventure based on the utterly exceptional qualities of its main character into a self-indulgent and self-referential soap-opera-cum-comedy based on one rather crude characterisation."
Kevin Pietersen is Sherlock.
Not necessarily a psychopath. But certainly a "high-functioning awkward bugger."
His coach, Andy Flower, is Watson.
We all prefer to sit down and have a cup of tea with the Watsons of this world. They're reasonable people who - because of the Sherlocks - often find themselves in a "perfectly intolerable situation."
But - and this seems to be his point - it isn't reasonableness that wins matches.
"Cases are solved by the Sherlocks," Barnes writes. "It was Pietersen, not Flower, who solved The Case of the Prematurely Celebrating Australians and The Case of the Indians Hoist With Their Own Petard."
The somewhat harsh implication seems to be: if push comes to shove, keep KP and drop Flower.
The other piece is about Dundee United.
"A star is born: Baby Messi growing into his nickname."
Here the analogy is not Sherlock but FC Barcelona.
The great days of Dundee United were 30 years ago. For a long time now the club has done nothing of any note.
But a new crop of exciting young talent is rising on Tayside. And it's all reminiscent of Barcelona's phenomenally successful youth policy.
Ryan Gauld, the club's 18 year-old "elfin winger" is like a young Lionel Messi, Barcelona's elfin Argentinian.
Gauld is not the only member of the club's academy attracting talent scouts from the rest of the UK - half a dozen other exciting prospects are mentioned in the piece.
Thus Gussie Park, where the youngsters learn their trade, earns the sobriquet McMasia. The Masia was the old farmhouse - now relocated to a bigger complex - where Messi, Iniesta, Xavi et al learnt their metronomic passing.
It's a heartening piece. One might even call it the Strange Case of Barcelona-on-Tay.
Follow @BBCNewsMagazine on Twitter and on Facebook