Caption Challenge: Model behaviour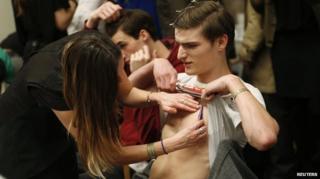 Winning entries in the Caption Challenge.
This week, it's just another day on the Burberry catwalk.
Thanks to all who entered. The prize of a small amount of kudos to the following:
6. Robandav:
When I said I wanted a Burberry check, I meant...
5. Ben Salisbury:
Forget about plucking my chest hair, what about my mono-brow?
4. Nick Rabin:
Britain's Next Top Model - From obscurity he was plucked.
3. Christopher Slater-Walker:
"I'm just replacing this one's battery".
2. Lee Ford:
"This is going to sting but nipples are so 2013."
1. Vince:
Judy's speed dating selection technique was thorough.
Full rules can be seen here
[16KB]
Follow @BBCNewsMagazine on Twitter and on Facebook