Paper Monitor: Farewell Simon Hoggart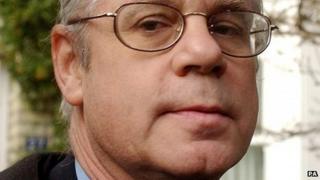 The papers are filled with tributes to one of Fleet Street's wittiest voices, Guardian political sketch writer Simon Hoggart, who has died aged 67.
His waspish asides were the stuff of legend.
"'It's as if My Little Pony had been in a terrible accident and its tail had been draped over Mr (Michael) Fabricant's head," he wrote of the Conservative MP's famous hairdo.
Of trade union leader Jimmy Knapp, he marvelled "that this vast, stooped, bald man, who looks like a polar bear attacked by a lawn strimmer, is almost precisely the same age as Cliff Richard".
Describing corpulent Tory MP Nicholas Soames: "You could tow him out to a village fete and charge children 50p to bounce on him."
(It's the word "tow" that is the mark of genius in that sentence.)
At the conclusion of an address by former Deputy Prime Minister John Prescott: "And the English language slunk through its own back door and drew the curtains."
But it was not just politicians who found themselves on the wrong end of his pen. So too, famously, were composers of boastful "round robin" letters: "You open an innocent-looking Christmas card and out fall several pages of a computer-written missive about talented children, wonderful holidays, new conservatories and dazzling success at work."
According to the Times, he "seemed to delight in being disgruntled but he was always funny with it".
The Daily Telegraph recalls the tale of how the Spectator's then-owner, Conrad Black, asked why the magazine had hired "a communist" as its wine correspondent when Hoggart was appointed to the post in 2001. Black was apparently reassured that "Simon won't only write about red wine".
In the Guardian, the paper he served (along with its sister title, the Observer), for 45 years, colleague Michael White says Hoggart's wit never deserted him: "Until the last few days visitors had found him sounding off, as usual, against favourite targets - the folly of politicians, publishers and privatised train companies, the pleasures of food and drink, the stupidity of manufacturers' safety warnings."
Follow @BBCNewsMagazine on Twitter and on Facebook