Why do some people refuse to seal envelopes?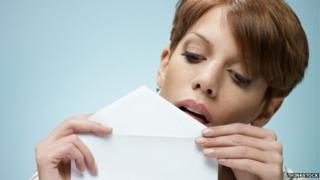 People who deliver our mail warn unsealed envelopes are a menace. Why don't some people seal their post, asks Clare Spencer.
Les Savage from Crawley got in touch with the Magazine from the department which repairs parcels for the Royal Mail.
"The worst problem is that people do not stick down the envelopes, and this leads to literally thousands of damaged cards/envelopes each day," he wrote. "You have to try and match the card with the envelopes which sometimes cannot be done."
While Royal Mail don't have any figures on the prevalence of the habit, Les is not the only one dealing with this peril. Deb Jones also bemoans people refusing to lick their envelopes on the Letter Box Study Group's internal message board.
"I've spent quite a lot of time dealing with ripped envelopes at work this month, modern sorting machinery doesn't like them being unsealed! "
So why do some people refuse to seal their envelopes?
Ray Smith, also from the LBSG, suggests the habit stems back from when it was cheaper to send unsealed envelopes.
He says that in 1892, the Printed Paper Rate was introduced which allowed newspapers, pamphlets and circulars to be sent at the reduced price of one halfpenny, as a note about handstamps kept at the British Postal Museum and Archive explains.
"Envelopes were sent unsealed to allow checkers to ensure that the regulations were observed or apply a surcharge," Smith says. "Sealed envelopes were surcharged."
But Smith explains this rate was abolished in 1969 after the introduction of first and second class post in 1968.
The British Postal Museum Archive confirms that there was a concessionary rate for unsealed envelopes, which was 3d in 1965. When the two-tier system came in, the concession was scrapped and the cheapest service was a penny more for a second-class stamp.
So unstuck envelopes in modern sorting offices might be a hangover from bygone days. Equally, it may just be down to laziness. Or that lots of people don't like the taste of glue.
Either way, remember to seal your mail properly and you'll be doing your postie a favour.
Follow @BBCNewsMagazine on Twitter and on Facebook