Paper Monitor: Prince Nobby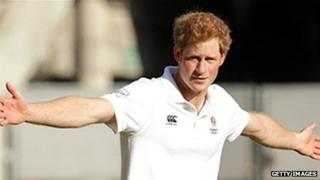 Apart from weather and sales, not much is occurring.
Step forward Prince Harry - once more unto the (news) breach.
The Sun's front page: "Harry Cressmas. Prince parties with love at Sandringham." Harry has invited some royals, among them princesses Beatrice and Eugenie, to a party with his alleged inamorata Cressida Bonas. And that's it. Next!
Page three of the Daily Mirror has the more diverting story of the traditional Christmas Eve football game at Sandringham. It got a bit tasty by all accounts.
Harry emerges as a mixture of Nobby Stiles and David Beckham. He's given a ticking off for a studs up lunge on his brother but also scores a "Christmas cracker" from outside the box.
The Duke of Cambridge is less fortunate with the coverage. Many note that he is sporting a pair of his team Aston Villa's socks. But then talk turns to the heir's hair. According to the Times, "it was his thinning hair rather than his sporting prowess that earned him comparisons by spectators with Sir Bobby Charlton".
He was even heard to be trying to get his brother booked - albeit good naturedly, according to the Daily Telegraph.
When Harry took the mickey out of a poorly worked corner, Wills told the ref: "Give him yellow, give him yellow - backchat."
Anyone looking for deeper significance about the England football team's travails, might alight on the following sentence.
"Prince Harry, who began the match on the left wing with a number 4 shirt, ended the game with legs covered in mud, after embarking on several ambitious sliding tackles."
Warrior prince, perhaps. But it seems the first royal Xavi or Iniesta is some way off.
Follow @BBCNewsMagazine on Twitter and on Facebook
On a tablet? Read 10 of the best Magazine stories from 2013 here