Paper Monitor: We're just ordinary people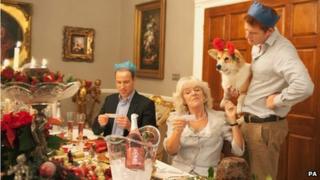 One definition of news is: Normal things that happen to extraordinary people.
The Daily Express and the Daily Mirror took that sentiment to heart when they both promise to reveal the "secrets" of Prince George's first Christmas.
Secrets include: His grandparents could buy him a toy train. Could.
Clarence House declined to discuss the matter with the Daily Express. So not so much a secret as a speculation that a grandfather might give his grandson a toy for Christmas.
Among the Daily Mirror's "secrets" is the location of Prince George's presents. There'll be under the tree, the Mirror exclusively reveals.
Amusingly, the editor of Majesty, Ingrid Seward, divulges that all the family wear party hats - except the Queen. And then this happens:
"At 3pm the entire household comes to a halt to watch the Queen's speech on TV. Her Majesty is the only one not present - she prefers to view the programme in private".
All this goes on while the staff cook at least 24 Norfolk turkeys for five different meal settings.
So not so ordinary then.
Follow @BBCNewsMagazine on Twitter and on Facebook