Paper Monitor: There may be trouble ahead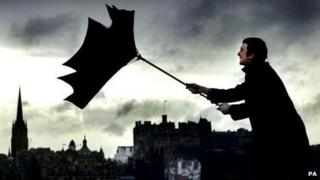 "TWELVE DAYS OF CHRISTMAS STORMS," thunders the front page of the Daily Express.
Alas, the paper misses the opportunity to update the festive ditty accordingly (nine brollies dripping? Eight gales a-blowing?). It's wot the Sun would have done.
But Paper Monitor can only be impressed by the Express' dedication to weather stories.
Here is a selection of its other page one leads from the present month:
"100MPH STORMS TO BLAST BACK" - 17/12
"FREAK STORMS TO BATTER BRITAIN" - 13/12
"STORMS ON WAY AT CHRISTMAS" - 9/12
"WORST STORM FOR 60 YEARS" - 7/12
"142MPH STORM WREAKS HAVOC" - 6/12
"90MPH ARCTIC STORM ON WAY" - 3/12
"GET READY FOR POLAR PLUNGE" - 2/12
And it appears there's plenty more where that came from.
On 29 November, it was "BIG FREEZE TO LAST 3 MONTHS".
More like three months a-splashing.
Follow @BBCNewsMagazine on Twitter and on Facebook