Paper Monitor: To pun or not to pun?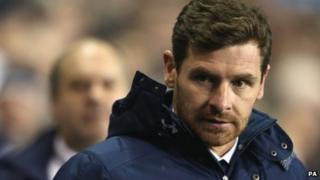 The question with puns is a simple one.
It's not how to pun. It's whether you really want to pun at all.
Most papers don't pun much. But the sport sections of the red-tops have a distinct predilection for it.
Take today's Sun. The story at hand is Liverpool's magisterial flattening of Tottenham at White Hart Lane.
The headline is "AVP45". It's a very Britocentric sort of pun. The Tottenham manager is Andre Villas-Boas and - because of the difficulty and length of time needed to say his full name - everyone refers to him as AVB. Every pundit seemed to think he was going to be sacked. (At 11:07 GMT their grim predictions came to pass.)
The P45 is a form you get from your employer when you're leaving, hence being slang for getting the sack.
Change the plosive "b" for its plosive cousin "p" and you have a pun.
Over in the Daily Mirror they go with "Andre Villas Goas".
So, you can probably see why most newspapers choose not to pun.
Follow @BBCNewsMagazine on Twitter and on Facebook