Caption Challenge: Van and minivan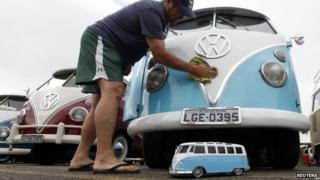 Winning entries in the Caption Challenge.
This week a Volkswagen Kombi minibus owner cleans his vehicle at a Kombi fan club meeting in Sao Bernardo do Campo, Brazil.
Thanks to all who entered. The prize of a small amount of kudos to the following:
6. Matthew Lenton:
"My other car's a Mini."
5. SkarloeyLine:
On filming days, Clarkson always liked his car to be ready before Richard Hammond's.
4. Simon Pengelly:
"One day, my boy, you'll be really old and have to have your nose wiped for you too."
3. IABP:
"We are going to need a bigger 3D printer."
2. Nick Rabin:
In an effort to tackle their overly macho image, some Brazilian men are getting a little camper.
1. Lee Nicholas:
"I put the last one through a hot wash. Not making that mistake again."
Full rules can be seen here
[16KB]
Follow @BBCNewsMagazine on Twitter and on Facebook