Paper Monitor: Selfie awareness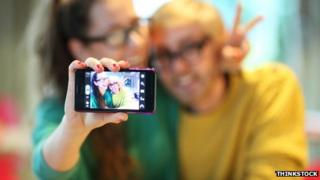 If any linguist had doubts that "selfie" now has an established place in the lexicon, a look at this morning's papers would dispel them.
A shot of Barack Obama, David Cameron and Danish PM Helle Thorning-Schmidt taking a self-portrait by mobile phone - with an apparently unamused Michelle Obama alongside them - adorns every paper.
For the Sun, it is not an appropriate way to behave at a memorial service for Nelson Mandela.
"NO SELFIE RESPECT," bellows the splash.
In the Independent, however, Andy McSmith makes the case for the political selfie.
British political leaders have long sent Christmas cards with photos of themselves and assorted family members. Cameron, Ed Miliband and Nick Clegg have all done so this year.
"There is nothing in the British constitution which says that prime ministers and party leaders have to put pictures of themselves, their wives and their children on the Christmas cards they send out - though you would not think so, from these images," McSmith observes.
The Christmas card selfie goes back to at least 1981, he says, when Margaret Thatcher "posed in a Lincoln green suit with padded shoulders alongside Denis, with a folded handkerchief in his top pocket, in front of a Downing Street fireplace".
Paper Monitor's nearest and dearest can expect to see a similar image of this columnist and consort popping through the letterbox this festive season.
Follow @BBCNewsMagazine on Twitter and on Facebook