Readers' novels no 6: Brush with Elvis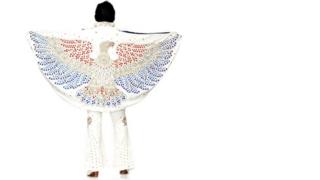 The Magazine's feature on why people take part in the month-long novel-writing event NaNoWriMo prompted dozens of readers to send in 350-word long excerpts. Here is Joanne Payne's Brush with Elvis.
I was in a bar with two guys from work doing my usual, 'no I'm not drinking' - then ending up having one, then another and losing the contents of my oversized handbag all over the place. I have a small grey and pink Chanel perfume spray and a matching grey and pink card holder that I foolishly love showing everyone.
I do rather fancy one of these guys but he's far too young for me although I still flirt outrageously with him. It's a bit of a game, an ego-boost if you like, that usually ends up being the complete opposite.
Then out of the corner of my eye right across the room I am aware of him. A mystery figure, dark hair, strikingly handsome, cool, and he's looking at me. A sudden rush of adrenaline shoots through me and I turn back to face the bar trying to compose myself and pretend my reaction is blase. I get up to take a walk outside on some premise and am intensely aware this guy is following me.
Outside he is there by my side walking along with me. I can't believe this is happening after what seems like an age of loneliness and longing for a proper romance - I must be dreaming!
'You're not leaving already are you?' he says as though he's known me forever.
'I have to go soon or I'll miss my connection', I reply as nonchalantly as the question.
I get a chance to really look at him. My God he is beautiful. He has thick, black hair gently flopping into a sexy quiff, almost natural-looking, like it fell that way when he got out of bed. He has intense cornflower blue eyes and long, thick black lashes around them. He is breathtaking and I can't help thinking what a pretty girl he'd be. Why are some men just so naturally beautiful? It's really not fair. His cheeks are slightly chiselled and his lips have a soft pout to die for. If it wasn't so corny I'd swear he was related to Elvis.
Inside I am molten gold.