Caption Challenge: Harping on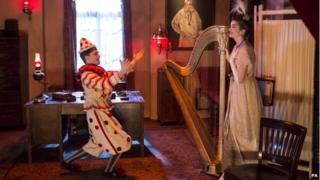 Winning entries in the Caption Challenge.
This week Daniel Radcliffe's clown attempts to woo a harpist in the TV drama A Young Doctor's Notebook.
Thanks to all who entered. The prize of a small amount of kudos to the following:
6. Mike Monk:
"Last Christmas I gave you my harp...can I have it back please?"
5. CindyAccidentally:
Leo Sayer performs to slightly smaller audiences these days.
4. SkarloeyLine:
"Plaintive appeal, hands wide apart - have you ever played cricket for England?"
3. Hobbitmorley:
"You've been stringing me along ever since you spotted me."
2. Rogueslr:
And the trousers are especially good in the event of tidal surges.
1. Robandav:
"I said I wanted a relationship with no strings."
Full rules can be seen here
[16KB]
Follow @BBCNewsMagazine on Twitter and on Facebook