Paper Monitor: The joy of bad sex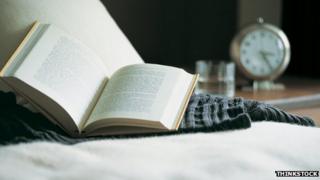 The Bad Sex awards are a regular highlight (or lowlight) of the literary calendar.
The event highlights "crude, badly written or perfunctory use of sexual description" in modern novels.
Previous winners include Melvyn Bragg, Norman Mailer and AA Gill. It's fair to say that most authors do not relish the prospect of being nominated.
In the run-up to this year's awards, there was something of a mini-backlash against the gong, first established by The Literary Review in 1993.
In the New Statesman, writer Laurie Penny described the event as "priggish" and "dated".
The Daily Telegraph - of course - carries a rebuttal from Arthur House, one of the judges, who says it is necessary to provide authors with "a high-spirited but gentle corrective" to low-quality smut.
"Because they are so hard to pull off, sex scenes in novels are a petri dish in which a writer's talents or flaws loom large," House writes. "They are like the hands in a Renaissance painting: better off left to the masters."
The winning passage this year is from Manil Suri's The City of Devi: "Surely supernovas explode that instant, somewhere, in some galaxy. We streak like superheroes past suns and solar systems, we dive through shoals of quarks and atomic nuclei. In celebration of our breakthrough fourth star, statisticians the world over rejoice."
I don't know about you, but the earth moved for Paper Monitor.
Follow @BBCNewsMagazine on Twitter and on Facebook