Paper Monitor: One columnist and her dog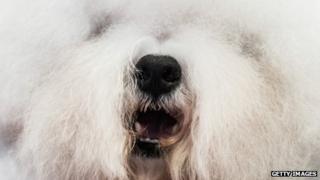 There's a must-have accessory for the style-conscious cabinet minister this Autumn/Winter.
It's a small dog called a bichon frise.
Over the weekend Chancellor George Osborne announced that his family had adopted one, named Lola, in 11 Downing Street.
It appears Education Secretary Michael Gove's family owns one, too. His wife, Daily Mail columnist Sarah Vine, devotes an entire page of the paper to their bichon, Snowy. "Bichons are the kings of cute, the sultans of soppy, the Olympic champions of adorability," declares Vine.
That's just as well, because it sounds as though looking after them involves quite a lot of effort.
Snowy regularly mauls shoes, tights, toothbrushes and clothes. He requires an intensive cleansing regime. His appetite is enormous. All in all, he "makes Lady Gaga look low-maintenance".
Not that Vine is complaining: "It's very silly, of course, and wholly undignified, but somehow chasing a mad white furball around the park makes me happy in ways I had never imagined possible."
The story is adorned with several pictures of Snowy. In one, he has a piece of paper wrapped around his which reads, "I ATE ALL MY MUM'S SUSHI."
Paper Monitor can't help thinking that a follow-up right-of-reply column written by Snowy would make illuminating reading.
Follow @BBCNewsMagazine on Twitter and on Facebook