Paper Monitor: Groucho Marxism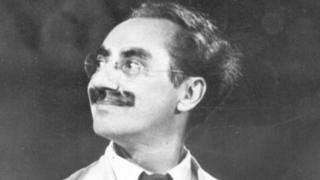 Everyone knows the Groucho Marx quip pertaining to clubs and membership policies.
In a roundabout way, Cristina Odone makes a similar point in the Daily Telegraph. Odone says she is perplexed by BBC presenter Clare Balding's decision to boycott the Open golf championship at a Scottish club due to its men-only status. "No woman I know would get out of bed to gain entry to these venues," insists the columnist. "The decor is mothballed, the traditions, silly."
She recalls once being invited by a boyfriend to the famous Beefsteak club, and finding herself stuck between two strangers "who bored on about horses and stamp-collecting". Paper Monitor isn't aware of Balding's views on philately but suspects the former champion amateur jockey may have found the equestrian chat more illuminating than Odone did.
In the Guardian, however, is a cri de coeur from someone who very much does want to execute a reverse-Groucho. Englishman and Lancaster resident Ian Martin - best known as one of the writers of The Thick of It - declares his wholehearted support for Scottish independence. He asks only that Caledonians departing the UK bring the north of England with them.
"I want to take my fierce sense of national pride somewhere else," he insists. "I am dissatisfied with my current patriotism services provider and I want a new one."
Preferring Holyrood government policy on education and health, Martin proposes drawing the border of Greater Scotland somewhere south of Blackpool, slicing Manchester in half "to create a tense, cold war-like Berlin of the north". The frontier would take in Bradford but not Whitby. However, he concedes the north-east of England may need to make its own arrangements, since "the last thing anyone needs is a Geordie Balkans".
Paper Monitor suggests that instead the cut-off point could be Swarkestone Bridge in Derbyshire, the southernmost point reached by Bonnie Prince Charlie's Jacobite army in 1745. Perhaps Groucho, Chico and Harpo would have made it further?
Follow @BBCNewsMagazine on Twitter and on Facebook