Paper Monitor: Harry's latest adventure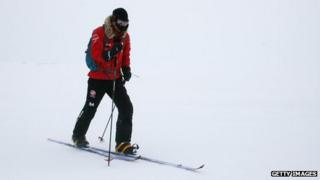 So Prince William is jealous of brother Harry, who is en route to the freezing wastes of Antarctica.
The Daily Telegraph headlines an interview that Prince Harry did from Base Camp with: "Prince Harry: William jealous that I am away from screaming Prince George". Similarly, the Daily Express opts for "Prince Harry jokes over William's envy at his 'escape from screaming' baby George".
"My brother, I think he's just quite jealous I managed to get away from a screaming child," both newspapers quote the prince as saying.
The Express even includes a happy-family snap of the baby George's christening - just to remind us of William's status as a newish dad.
Tell us more, Harry. But, no, that's it - that's all he's giving away.
Prince Harry is on a trek to the South Pole with Walking with the Wounded in the South Pole Allied Challenge expedition to raise money for wounded soldiers. A freak storm has delayed the team's start.
The Daily Star, under the headline "Harry's ice cool", kicks off its story with the prince saying that he had to "calm" his father, Prince Charles, who was worried for his son's safety on the 200-mile trek.
But what about beau Cressida Bonas - any word on how worried she was? Is he carrying a lock of her hair, a photo, perhaps? No word was mentioned.
Monday's Daily Mail helpfully explains that while Harry is "battling sub-zero Antarctic temperatures, his girlfriend Cressida Bonas keeps warm by partying all night in a trendy London nightclub".
Paper Monitors wonders just how "ice cool" Harry may remain with revelations like this: "Her boyfriend Harry is thousands of miles away battling the freezing cold and driving wind and snow in the wastes of Antarctica, but Cressida Bonas is not one to sit indoors and pine for her Prince."
Follow @BBCNewsMagazine on Twitter and on Facebook