Paper Monitor: Where is my mind?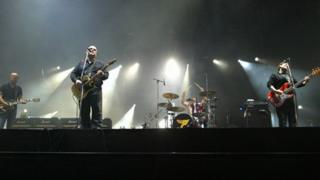 There's a genuinely great exclusive in today's Guardian interview with seminal indie band Pixies.
Kim Deal, the group's celebrated bassist, recently walked out. For the first time the circumstances of her departure are outlined.
"So," frontman Black Francis tells interviewer Alexis Petridis, "you gotta imagine we're in this coffee shop in Monmouth. Not Costa, the other one, with the Italian name."
"Caffe Nero?", writes Petridis, aghast.
"You're saying that the original line up of Pixies - arguably the most important and influential American guitar band of their era; purveyors of howled songs about incest, lust, Biblical violence, death and UFOs; a band who, on arrival, appeared so strange and alien to British audiences that, as one critic put it, they 'seemed to have crawled out of the desert, babbling in tongues' - lost their bassist in a Caffe Nero in a market town in south Wales?"
Yes, it's true, replies Francis. Pixies - arguably the most important US alternative act of all time, the band whom Kurt Cobain said he was trying to copy when he wrote Smells Like Teen Spirit - lost their key member thus. In Monmouth.
"Right. Caffe Nero," Francis confirms.
It's a minor detail in the history of popular music, to be sure.
But Paper Monitor is a big, big Pixies fan, and to this columnist the news comes a bit like learning that the Beatles split up in the Abergavenny branch of Starbucks, or that Stax Records had its insolvency confirmed at Costa Coffee in Merthyr Tydfil.
Such is life. Why don't we all make the most of the moment, take a break from what we're doing and listen to Tame, Pixies finest hour? Have a good weekend.
Follow @BBCNewsMagazine on Twitter and on Facebook