Paper Monitor: Showbiz make-ups in spotlight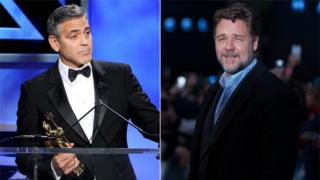 Newspapers recount two heart-warming tales of film stars making up.
The Daily Telegraph reports that Emma Thompson has "made her peace" with Helena Bonham Carter nearly two decades after her marriage with Sir Kenneth Branagh broke up.
Thompson claims the experience is all "blood under the bridge", a far cry from the depression she says she experienced following the breakup in 1995.
The Love Actually star even went as far as to describe Bonham Carter, who reportedly began her affair while working on Frankenstein with Branagh in 1994, as a "wonderful woman".
Meanwhile, George Clooney says he has buried the hatchet with fellow film star Russell Crowe after being sent "a disc of his music and thing of his poetry".
Clooney claims he even took the poems to the British Academy of Film and Television Awards (Baftas), where he considered reciting a few lines if he had needed to make an acceptance speech.
The pair fell out when, according to Clooney, Crowe "picked a fight with me... for no reason at all" by accusing him, Harrison Ford and Robert de Niro, of being sell-outs.
Clooney's response - to mock Crowe's band 30 Odd Foot of Grunts - led the row to escalate further with Crowe branding Clooney "a Frank Sinatra wannabe".
However, the Express suggests that all is not forgotten and the feud between the pair is ongoing.
Whatever the case, Paper Monitor hopes all that is in the past and the off-screen feuding is kept to a minimum.
Follow @BBCNewsMagazine on Twitter and on Facebook