Paper Monitor: Grey Hair Day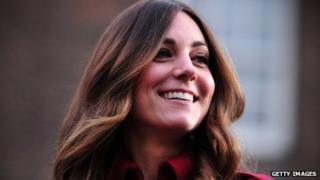 Going back to her roots.
Most of the papers offer close ups of the Duchess of Cambridge's hair. Hold the front page - she's been spotted out and about apparently with grey roots.
"Catherine The Grey-T" is on the Sun's cover. Inside it opts for "Royal hair apparent", which doesn't quite work as a pun - was she once bald?
The Mail tries to strike a sympathetic note. "Baby George keeping you up at night, Kate? Elegant as ever - but with grey roots and furrowed brow - the Duchess of Cambridge visits poppy sellers yesterday."
The Daily Telegraph is too polite for such lese-majeste.
"A different look for Kate?" it asks over a huge front-page picture. "The Duchess of Cambridge appeared to be sporting a new hairstyle yesterday, with a Seventies-style centre parting."
According to Metro, Kate's friends have been teasing her about her "stress highlights".
Paper Monitor is thankful that, so far, no 50 shades of Duchess-style-headlines have been spotted.
Follow @BBCNewsMagazine on Twitter and on Facebook