Paper Monitor: She sings too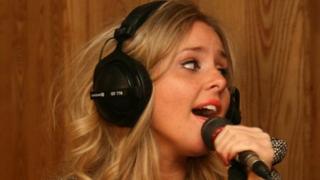 Paper Monitor was taken aback on this morning's commute.
Flicking through Metro, a longer than normal time was taken reading the Guilty Pleasures section.
On Page 26 Patrick Stump of pop-punk combo Fall Out Boy talks about Britney Spears' recent claim that women are pressured to use sex to sell their songs.
"My Mom's a feminist and I have discomfort with things I see female artists asked to do," he says.
Glance over at Page 27 and singer Diana Vickers is quoted as saying this:
"I know it's part of my job to be kind of sexy. I just don't think of myself like that."
It's accompanied by a two pictures of the X Factor alumni. In her pants.
The photo was taken for an FHM feature.
Paper Monitor wonders whether editor of Guilty Pleasures Andrei Harmsworth placed these two articles next to each other on purpose to prove a point.
It certainly got Paper Monitor thinking.
Follow @BBCNewsMagazine on Twitter and on Facebook