A llama-based coincidence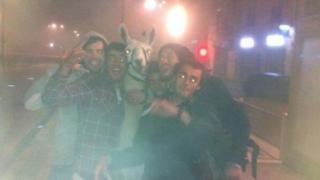 Serge the llama, smuggled on to a tram in Bordeaux by five allegedly inebriated men, has become an international star. But another personality has also benefited from the buzz - French singer Serge Lama, explains Olivia Sorrel-Dejerine.
Serge the llama - or "Serge le lama" as he is in French - was eventually returned unharmed to the circus after being temporarily removed by the group who had emerged from a nightclub. No criminal charges are expected but a storm of publicity has not yet abated. The French regional paper that first reported the story - Sud-Ouest - increased its online readership 160-fold. One French television news show attempted to interview the llama itself.
Llamas appear to have an almost cat-like viral potential. A parody of the recent Europop hit Papaoutai (a phonetic spelling of "papa, where are you") entitled Lamaoutai has already clocked nearly 2.5 million hits. The story resonated for the French media, not least because of the 1970s French singer Serge Lama, also from Bordeaux. "The story exploded before we even knew the name of the llama. But it's true that when we learned its name, it took on a whole other dimension. Serge Lama being from Bordeaux, it achieved even more notoriety," says Pierre Chausse, columnist at France Info.
Serge Lama (the human) explained that he "had a good laugh" when reading about the night time adventures of his homonym. "The story takes place in Bordeaux, which happens to be the city where I was born. It's a great reference. And thanks to this story, I will at least have taken the tramway once in Bordeaux. It's a joke that turns out well." Serge Lama - best known for the romantic song Je Suis Malade - is well used to being the butt of jokes about his name. In the early 1980s a few of his friends gave him an actual llama for his birthday. Enterprising types have already taken to selling T-shirts using the slogan "Le Lama Bordelais". And both Serges are now more famous than they were.
Follow @BBCNewsMagazine on Twitter and on Facebook