Paper Monitor: Headlines - meat and potatoes of papers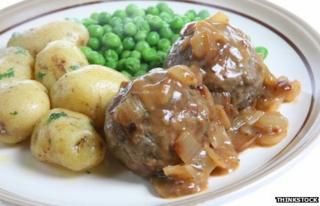 In terms of headlines, there are some real gems today.
First up, it's the Sun and its "Facebook axed me for liking faggots". Facebook is rendered blue on white like the company's logo just to jazz up the page - although this is page three and probably doesn't need much more jazzing up. It's the tale of how food-lover (more specifically offal fan) Robert Wilkes had his account shut for using homophobic language after he recalled "his fondness for a classic English dish from his childhood". What might this be? "It's political correctness gone mad," says Wilkes. In case younger readers have any difficulty placing this classic gastronomic item, there is a handy box supplying vital facts and figures - along with a picture of a raw faggot.
On to the Daily Star's front-page screamer: "Killer spider lived in my head". This is the "exclusive" about "terrified Graeme Lougher", the sculptor in whose ear a false widow spider "set up home". Turn to page five and you get the inevitable "Spider-man" headline. The beastie was wrestled out of the ear by a doctor but promptly ran up Lougher's nose. Graeme, we learn, tried to sneeze it out - to no avail. He finally blew it out into the sink. The paper manages to get a Halloween reference into the story. "It's the worst time of the year for it too, with all the Halloween decorations reminding me," says the arachnophobe.
"Landing Strip" is the Daily Mirror's headline for the story of two mothers who whipped off their tops at an airport's security gates. The pair, whose antics landed them in court, have been after sentenced for public order offences. The court heard that Lady Kelly Hadfield-Hyde and Ann Chadwick had shared an early-morning bottle of wine, although in evidence, Hadfield Hyde denied being drunk. The Mirror's website has the video of the pair, but the paper edition carries a sequence of pictures, with five pun-filled captions - take off, bosom buddies, turbulent (this is when another friend intervenes), winging it (the friend tries to cover up the other mum) and, lastly, breast behaviour (the pair finally cover up).
And finally, "Frankenstein's mogster" is the Mirror's headline to a story about animal corpses found in freezers in a house in Warsaw, Poland. Apparently the owner of the house wanted to create a new breed of dog - "and when that failed she switched to cats". "Frankencats" had already been used by news outlets reporting this on Thursday, but it's the Mirror subs that collect the headline-writing gong on this one.
Follow @BBCNewsMagazine on Twitter and on Facebook