Caption Challenge: Stairway to heaven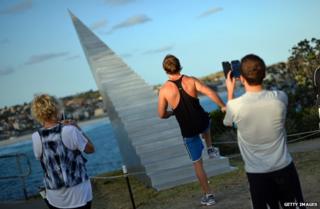 Winning entries in the Caption Challenge.
This week a man appears be walking into the sky.
Thanks to all who entered. The prize of a small amount of kudos to the following:
6. MJ Fraser:
It was going to be a long day for the carpet fitter.
5. Catherine O:
"Run up there? Can't see the point."
4. Simon Cleverly:
Due to massive cuts in funding, Nasa have had to scale back their shuttle replacement programme.
3. Matthew Lenton:
Google unveil new way to access data in the cloud.
2. CK Sleeman:
After his magic beans are stolen, Jack finds an alternate route.
1. Anna Simpson:
This guy really wants to find out what Led Zeppelin were talking about.
Full rules can be seen here
[16KB]
Follow @BBCNewsMagazine on Twitter and on Facebook