Paper Monitor: Lady Gaga serves up a storm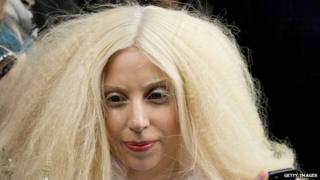 The St Jude storm that hit much of the south of the UK yesterday understandably dominates the national press today.
But fortunately Lady Gaga's storm in a teacup has not gone unnoticed in the battle for the nation's attention.
"Shut your cake hole!" yells the Daily Mirror, giving due prominence - on page three, no less - to a "Twitter tirade" by Kelly Osborne against Ms Gaga.
For Kelly O has sensationally rejected a "peace offering" birthday cake from the Poker Face singer.
"Why would you send me a birthday cake via my MOTHER in a country half the world away?"
The "half the world away" she's referring to is the UK, where Lady Gaga appeared on X Factor last weekend.
And it's a whole different storm she's caused in the Sun, which for some bizarre reason waits until page seven to offer us even more pressing revelations.
Yes, Lady Gaga's "eccentric" Sunday night performance has prompted hundreds of complaints.
Although, as the Sun kindly states, the performance in question "may have been fairly tame for Gaga - who left her hotel yesterday looking like a wasted ghoul and sang naked at London's G-A-Y nightclub on Saturday."
As for the Daily Express, the less said the better.
Not one mention of Lady Gaga's storm. Either of them. It's almost as if it was already two days ago and other things are happening in the world. Strange.
Follow @BBCNewsMagazine on Twitter and on Facebook