Paper Monitor: Gorgeous George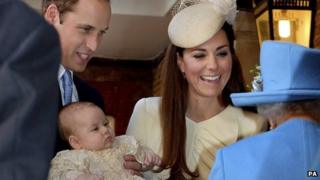 Prince George is the star of the show.
The parents supposedly wanted a low-key affair. But low-key is not how you could describe the Daily Mail's coverage with its first 15 pages entirely dedicated to the ceremony in a "royal christening souvenir" issue.
Liz Jones' "fashion verdict" accompanies the enormous pictures. In one featuring Pippa Middleton, Jones notes that "despite the modest, high neckline and the trapeze shape of her back-pleated coat, which ensured her world-famous buttocks remained obscured, Pippa stole the show."
The next page compares a not-so-flattering picture of Carole Middleton three hours before the event with another one from the ceremony where she looks "astonishing."
The Times focuses on Prince George's satin and lace christening robe that was a replica of the gown first used for the christening of Queen Victoria's eldest daughter.
"More than 60 royal babies have worn the Honiton lace and ivory satin robe, beginning with Princess Victoria in 1841," the Times says. "The robe was last used for the christening of Lady Louise Windsor, daughter of the Earl of Wessex, in 2004, but was felt to be too fragile for further use."
The Sun reports that "the three-month-old future king stayed on his best behaviour for only his second public outing."
But the Mail notes that "he did succumb to the odd grumpy expression."
The seven god parents were given sarcastic nicknames by Catherine Ostler and Rebecca English from the Mail such as "Yachtie Totty" to describe Emilia Jardine-Paterson, a friend of William and Kate who "was credited for introducing the two lovebirds" or "Military Muscle" for Jamie Lowther-Pinkerton, the "hard-working principal private secretary and equerry to William and Harry."
No doubt these special editions will live long on our coffee tables.
P.S. All except the Indy, which has a nib at the bottom of page 27. "Prince George was christened yesterday in a private ceremony at St James' Palace led by the Archbishop of Canterbury."
Low-key enough for you?
Follow @BBCNewsMagazine on Twitter and on Facebook