Paper Monitor: Man who once controlled ball-kicking men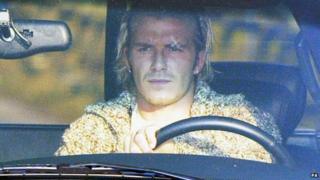 A man, who used to control a group of other men and direct them as to the best way to kick a ball, is the biggest story in the world right now.
Yes, it's Sir Alex Ferguson's autobiography. Or "Fergie's bombshell verdict on Beckham", as the Sun puts it.
The retired Manchester United boss has torn into David Beckham in his new autobiography. "He thought he was bigger than me. It was his death knell," the Sun recounts.
Meanwhile, the Daily Telegraph notes that Ferguson "has disclosed how Beckham's obsession with hairstyles drove him to 'despair'".
This goes back to an "incident in 2000 when the then Manchester United midfielder refused to take off a beanie hat during training and even in a restaurant for a team dinner," writes the Telegraph.
"Ferguson reveals he threatened to leave Beckham out of the team when he insisted on keeping the beanie on. When he took it off, revealing a shaved head, he told Ferguson that he intended to take it off just before kick-off."
The Independent points out that Ferguson "accused David Beckham of blowing his chance of being a 'top-level footballer' by marrying his wife Victoria and, in his last few years at Manchester United, openly disobeying his manager".
The Daily Star and the Daily Mirror choose poignant headlines such as "Fergie: Posh ruined Beck's career" and "Beck's problem was falling in love with Victoria."
"Fergie grew exasperated at the player's concern over his public image, claiming: 'He has to control the publicity machine on Victoria's side. It has been interfering with his life and you can't have that," the Mirror says.
At the autobiography's launch yesterday in London, "Ferguson attempted to diffuse the situation by describing him as a 'marvellous boy and an icon to all children in the world'," says Steve Howard from the Sun.
"But the damage has already been done."
Follow @BBCNewsMagazine on Twitter and on Facebook