Paper Monitor: Spat-isserie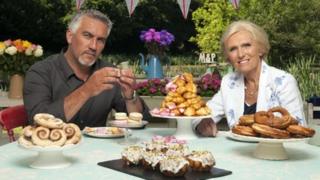 Today's newspapers are awash with the uproar chef Raymond Blanc provoked after one of his tweets apparently revealed the winner of tonight's Great British Bake Off final.
"The Great British Bake Off. Not much skills, female tears and a winner so thin who makes me doubt of her love for great cooking, baking," Blanc tweeted yesterday morning.
Complaints flooded in from outraged viewers who believed the patron of the two Michelin-starred Manoir aux Quat'Saisons restaurant had revealed the victor, reports the Guardian.
His comment about the slim figure of the successful finalist led viewers to conclude that the French chef had gained inside information that the winner would be 21-year-old former model Ruby Tandoh, adds the Daily Express.
One angry fan tweeted: "You've ruined this for millions of viewers! Paul Hollywood will be a tad grumpy, I think!" Another added: "Thanks for spoiling. Not impressed."
Judge Paul Hollywood joined the Twitter controversy by asking: "Wow Raymond, have you seen the winner already?"
Meanwhile Tandoh, who - according to the Times -had previously been accused of winning over the judges with a mixture of weeping and flirtation, hit back as well: "Female tears?! And what has anyone's size got to do with it? I don't care if you're a patisserie king - don't be an idiot."
Blanc finally apologised: "OK, sorry guys, I was a grumpy Frenchman this morning. I don't know who has won #GBBO, but can't wait to find out…"
In a separate tweet to Hollywood, he reiterated that he did not know the winner and blamed the confusion on the fact that English was his second language, reports the Daily Telegraph.
But the Times reveals that Tandoh, whose Twitter profile describes her as a "glutton and baker", remained annoyed, tweeting in response to a message of support: "Will never understand people's need to gender food! Supposedly frilly baking vs. macho Michelin stars. All nonsense."
Follow @BBCNewsMagazine on Twitter and on Facebook