Smashed Hits: The Windmills Of Your Mind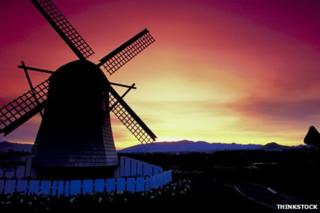 "Round... like a circle in a spiral, a wheel within a wheel..." so begins The Windmills Of Your Mind, made famous by Noel Harrison. Why has the song lasted so long, asks Ben Milne.
Only two minutes and 20 seconds long in the version by Harrison, who's died aged 79, Windmills of Your Mind is a rush of lyrical free association about turning circles, spirals and the passage of time ("The autumn leaves were turning to the colour of her hair").
With its imagery of "a tunnel that you follow to a tunnel of its own" and apples "whirling silently in space" Windmills occupies a singular place in the pop canon where psychedelia and easy listening meet.
"It's a very peculiar and intriguing song," says Bob Stanley, musician and author of pop history Yeah Yeah Yeah. "It gets called easy listening but really isn't at all."
Stanley says the song was the product of a short-lived era, post-Sgt Pepper, "where what had been the straight set... jumped on the psychedelia bandwagon".
It was written by French composer Michel Legrand, with English lyrics by husband-and-wife team Alan and Marilyn Bergman (a French version, Les Moulins de mon coeur, was also penned by Eddy Marnay) and was used to memorable effect in the Steve McQueen thriller The Thomas Crown Affair (it won the Oscar for best song in 1968).
But what do the lyrics mean? The poet Ian McMillan says Windmills Of Your Mind is similar to some modernist poetry where meanings are kept deliberately mysterious and confusing. He thinks the lyrics are deceptively shallow and warns poetry students not to use them as a template:
"People will write something like 'the walls of my despair' or 'the settee of my soul'. 'Windmills of your mind' is a great phrase, and it's a fantastic song, but the words appear to mean something when they don't."
Nevertheless the song has become a standard, covered by more than 80 recording artists, as diverse as Dusty Springfield, ex-Specials singer Terry Hall, the Muppets and Kiri Te Kanawa.
But for many, it's Noel Harrison's version which still endures, as he delivers in his clipped English accent, "Why did summer go so quickly, was it something that she said?"
Follow @BBCNewsMagazine on Twitter and on Facebook