Paper Monitor: The Great British Blub Off?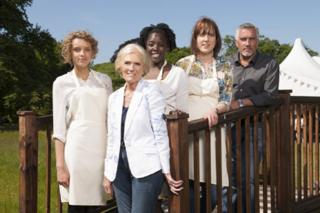 "Someone left the cake out in the rain..." sang Richard Harris tearfully on Jimmy Webb's compelling but really rather weird 60s hit, MacArthur Park.
The Daily Mail gives the impression it could have been the soundtrack to this week's semi-final of The Great British Bake Off.
"Blubbing got Ruby to Bake Off final say angry viewers". Contestant Ruby Tandoh's emotional reaction to getting through to the final has apparently prompted several comments on Twitter, some of which correspond to the Mail's headline.
"I swear Ruby has spent most of her time crying instead of baking" says one. Yes, those viewers are angry.
Quentin Letts warms to the theme in the paper's comment pages. "Blub, blub, blub! These TV cry babies make me want to weep."
"It is never worth crying over spilt milk, the saying used to go. But in The Great British Bake Off they turn on the tap at the first boshed brioche, the first thumbs-down to a fruit turn-over."
And then he's off on the customary "What happened to the stiff upper lip?" tour of British history, with the obligatory stop-offs at poems by Kipling, brave soldiers laughing off the loss of limbs, and on to our moral decline and fall played out by emotionally incontinent sports stars and spineless reality TV show contestants.
Meanwhile, Bake Off judge Paul Hollywood is the subject of a profile in the Times: "In the sexless canvassed WI environment of the show the comparatively youthful yet actually 47-year-old Hollywood gleams like an Adonis, if Adonis had lived to sport a silver beard and a hint of pastry belly." Blimey.
Hollywood gives the impression that beneath his calm exterior ("the essence of dispassion, a judicious dissector of breads...") there lies a soul as sensitive as a newly-risen Victoria sponge.
He hints to the interviewer that he was reduced to tears by comments made by newspaper columnists over his marital difficulties. "They got to me. I won't forget that, but revenge is a dish best served cold."
Like fridge cake then. But not like a Cornish pasty.
Follow @BBCNewsMagazine on Twitter and on Facebook