Paper Monitor: Waxing lyrical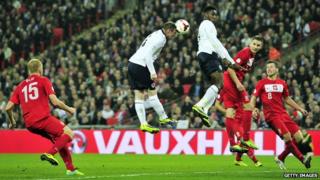 Enjoying some more pun in the Sun.
It appears the Sun has taken Paper Monitor's comment yesterday about their "strangely off-form pun masters" to heart.
Following England's safe passage through to Brazil, the Sun has devoted three of the first five pages to attempts to make amends.
After the bizarre pre-game plea to "Rub Our Lucky Nuts (and help England get to Brazil)", there's a follow-up - "Thanks for rubbing your nuts", as well as a more self-congratulatory: "Cracking idea... our nutty plan".
Then there's "The Roodeemer" next to Christ the Redeemer, as well as "We're there... with flare" - with a helpful picture of some 1973 jeans and the explainer that Poland "beat England when flared jeans were in". Not stretching there at all.
But the front page lead is where they outdo themselves.
"We got a Brazilian", it says, evidently feeling yesterday's pun was too male-centric.
It then adds, lest there be any confusion, "It's a close shave but we wax Poles".
With the World Cup itself and then the Rio Olympics still to come, Paper Monitor eagerly awaits some more gems - let's just hope England don't Recife a battering or we're Rio-lly going to get it.
On a different note, Paper Monitor would like to say goodbye to the International Herald Tribune, or at least its name, which will now be the International New York Times.
With Paper Monitor still in pun-mode, perhaps it's better left to Roger Cohen in the New York Times to bid "Adieu IHT, Bonjour INYT":
"If anyone doubted a newspaper could be sexy, all they had to do was watch the pert Jean Seberg, wearing a Herald Tribune T-shirt, hawking the paper (then The New York Herald Tribune) in Jean-Luc Godard's 'Breathless'. Case closed."
L'hmmm.
Follow @BBCNewsMagazine on Twitter and on Facebook