Caption Challenge: Big mushrooms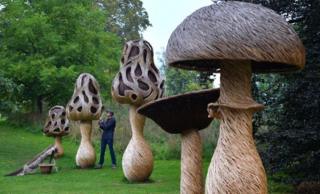 Winning entries in the Caption Challenge.
The Caption Challenge has now closed.
This week, artist Tom Hare creates sculptures at Kew Gardens, London.
Thanks to all who entered. The prize of a small amount of kudos to the following:
6. Alex:
The Dutch contribution to GM crops.
5. CB:
"If you these are big, wait till you see the bacon and eggs."
4. Rob Falconer:
UEFA introduces the Champignons League.
3. Stephen Scott:
"I thought you said they weren't hallucinogenic?!?"
2. lewis:
"Well, I was taking my cow to market, and this man stopped me and persuaded me to swap my cow for some funny coloured beans..."
1. SkarloeyLine:
"Judges, your spores please."
Full rules can be seen here
[16KB]