Paper Monitor: Vintage touch of Klass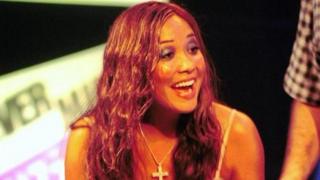 It's rare that you can see a parallel between the Times and the Daily Star.
One is a newspaper founded in 1785, known and respected around the world and a byword for respectability.
The other was founded in 1978 and often starts its splash headline with the phrase "Big Bro".
But today they are at one. Both think the picture of Ukip leader Nigel Farage with a microphone carefully interposed to look like a Hitler moustache is worth featuring. Here is the picture at Huffington Post, which also likes it.
But unlike the Times, the Star goes with a pun of almost mindbending painfulness. "A Herry-y Nigel", it quips to silent groans from a much-tested readership.
While we're on the Star, though, we should always take a quick look at Text Maniacs. The full spectrum of opinion is always covered here.
One texter requires the printing of a picture of Myleene Klass from here Hear'Say days in 2001. He gets one.
But another writes: "Re Laminate floors. Am I the only one that doesn't like them? They appear cold, ur voice seems to echo nd footsteps seem loud. Prefer fitted carpet nd curtains. What do other txtrs think? Pat T, Wells".
Paper Monitor will get thinking about that one.