Paper Monitor: Too much information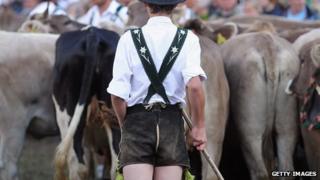 "For many years, I have had to live with the fact my husband has been in love with another woman," announces Daily Mail columnist Sarah Vine.
"There are almost as many pictures of the late Margaret Thatcher in his office as there are of me and the children."
This may not come as a surprise. Vine's husband is Michael Gove, the education secretary, and a man well known for his trenchant support for the UK's first female prime minister.
Now, we learn, Gove's affections are focused on German Chancellor Angela Merkel, to the extent that he returned from a continental holiday with "a pair of swimming trunks in the style of lederhosen".
Paper Monitor is nonplussed by all this. How exactly to these swimming trunks conform to the style of lederhosen? Do they have straps?.
Some may cry "too much information". But Vine has form in this department.
Previously, while in the employ of the Times, she described how her husband had once stood next to Mick Jagger at a urinal, an event which "inspired him to pepper his arguments with a series of double-entendre jokes about the underwhelming size of Jagger's equipment".
When the rival Daily Telegraph inevitably followed up the tale, its news pages gushed that Vine had "told all about (Gove's) fixation with the size of Sir Mick Jagger's penis".
It was this headline-grabbing style that no doubt helped persuade Mail executives to poach Vine. But Conservative strategists will be pleased to learn that Gove is not the only politician whose private life is held up to withering scrutiny.
Over pages 10 and 11 it runs three pictures of the Labour leader Ed Miliband and his wife Justine embracing.
"YUCK..." runs the first caption. "YUCKIER..." is the second. "AND YUCKIEST" goes the last.
If only the leader of the opposition had thought to put on a pair of lederhosen-like swimming trunks.