Paper Monitor: Chillaxing in style?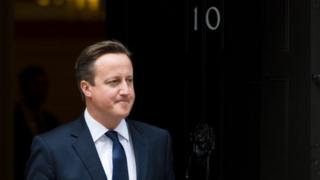 Paper Monitor is struck by a particular picture that's delighting the papers today.
It's nothing to do with Syria. Or British political parties on the campaign trail.
No, the snap causing a stir is actually David Cameron snoozing.
"Who's that chillaxing on the four-poster?" teases the Times - on its front page no less.
Paper Monitor doesn't immediately notice the PM. The woman in the foreground of the photo, clad in a dainty white top, champagne flute in hand, takes up most of the picture.
But those wondering whether there's a whiff of scandal are soon put straight. The woman is actually Samantha Cameron's half-sister, Alice Sheffield, on her wedding day.
In turns out the picture was posted on Instagram by Mrs Cameron's other sister, Emily Sheffield, and has since been removed.
But that hasn't stopped the papers having a field day.
"It's David Cameron... chillaxing with the bride," says the Daily Express. "The Prime Minister is pictured, mouth open, one leg crossed over the other, reclining," it enthuses.
"Barefoot on a four-poster bed, David Cameron dozes next to his top-secret red box - showing how Tory policies send even him to sleep," is the Daily Mirror's take.
Meanwhile the Daily Telegraph thinks it's got the secret to why the PM might be keen to keep the red box close by.
It points the red box in the photograph is believed to be the same one he left unattended on the 07:44 BST train from London's King's Cross station to York earlier that day.
"Passengers took photographs of the box, with the key still in the lock, while Mr Cameron visited the buffet car. Downing Street later insisted it was being watched by security officers," it says.
It seems the PM is never safe from the snappy happy these days. Even when he's chillaxing.