Paper Monitor: Tanked up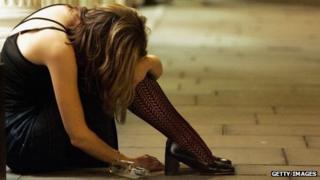 "Drunk tanks" are in the news. Paper Monitor welcomes back an old friend.
"It was Christmas Eve, babe, in the drunk tank," slurs The Pogues' Shane MacGowan at the start of Fairytale of New York.
It's one of pop music's most evocative opening lines, and, although we're still a good 95 days from 24 December, this booze-drenched penal setting dominates Thursday's papers.
The Association of Chief Police Officers wants inebriated people who need medical attention to be put in privately run cells to sober up and be made to pay for their care the next morning. Or Top Cops Urge Drunk Tanks, if you're a backbench sub-editor.
In the Guardian, Leo Benedictus has a potted history of the term. The phrase "drunk tank" is American, but the concept is eastern European, with the first one apparently having been set up in Prague in 1951. Thanks to the Pogues and Kirsty MacColl, Benedictus says, "there is still a kind of doomed romance" surrounding them, a remark which suggests to Paper Monitor that he has never spent time in one.
The Daily Mail approves of the proposal. It also carries a topical pocket cartoon, depicting a elderly woman answering the phone as she gazes out the window at her husband in his shed. "He'll have to call you back," she tells the caller, "he's in his drunk tank."
Others bemoan the fact that they will never see the inside of such establishments.
"There's a point in a young woman's life when marauding the town centre on a Saturday evening, three sheets to the wind, wearing a skirt which holds no truck with covering bum cheeks, can be enormously appealing," remarks Grace Dent of the Independent. But, she says, this "diminishes with years, until eventually by one's late thirties, one would cheerfully have the local strip of fun pubs grassed over and replaced with a big yoga mat and a stall selling baking beads".
Likewise, Carol Midgley of The Times bemoans the fact that her generation "certainly won't be the ones filling Mr Cameron's new £400 a night drunk tanks because our friends are probably on the 5:2 diet and want an early night anyway".
Best of all, however, at least from Paper Monitor's perspective, is the story about BBC News presenter Simon McCoy reading the news while clutching a ream of photocopier paper he picked up instead of his tablet device.
McCoy was delivering an item about drunk tanks at the time. And whose photo is that behind him (thus reproduced in every newspaper which took a screengrab of the incident)?
Why, it's Drunk Girl, the default stock image when a paper wishes to depict the misery that late-night drunkenness can wreak.
It's been a while since we last saw her. Perhaps she's been banged up in a drunk tank somewhere.