Paper Monitor: Tabloid tales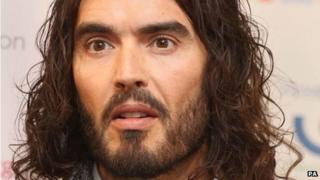 The kiss and tell is back - in an unlikely setting.
A one-time staple of the Sunday tabloids was the kiss and tell. Each weekend the ex-lover of a footballer, actor, pop star or politician would be induced to describe their former paramour in intimate detail.
The protection of privacy in the Human Rights Act coupled with the chilling effects of the Leveson Inquiry, it has been claimed, have forced the genre to make its excuses and leave.
For one day, at least, it is back. Not in the Star or the Sun or Daily Mirror or even the Daily Mail.
No, it's the Daily Telegraph, where features writer and columnist Bryony Gordon describes how she "gave in" to the charms of lothario Russell Brand.
As "a single, fresh-faced 25-year-old", it transpires, she was sent to interview the comedian. It took her "at least 10 minutes to work out that he was trying to seduce me", she says.
According to her account, Gordon was subjected to a charm offensive - Brand "started to tell me how beautiful I was, how lovely my eyes were - I cringe to think about it - before asking if he could kiss me".
After the interview ended, Brand apparently procured the writer's phone number. "It was the start of a bizarre bombardment to which I eventually surrendered," she writes ruefully.
Their brief dalliance came to a conclusion when Gordon opened the a newspaper to find Brand was romantically linked with Kate Moss. "I suppose there are worse people to be usurped by," she writes (Paper Monitor intends to submit this to the Oxford English Dictionary should they require an example of the popular term "humblebrag").
One wonders what the apocryphal retired colonels said to be the bulk of the Telegraph's readership make of it all. If only the News of the World were still going.