Paper Monitor: Vinnie, Justin and friends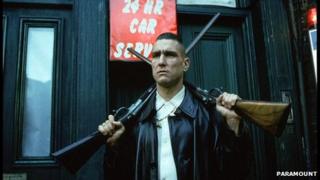 Time to revisit old friends.
We all have our hobby horses. Newspapers are no different.
Today the Daily Express splash is: "SAS 'Ordered' To Kill Diana."
Note the use of quotation marks around "ordered".
Turns out the allegation comes from Soldier N's wife. Sorry, ex-wife. But who is Soldier N? Erm, the front page story doesn't really say. But from memory a former SAS sniper who gave evidence at the court martial of another SAS sniper who was… Enough already. Next!
A Daily Telegraph lead manages to combine two subjects close to readers' hearts. Gardening and European Union bureaucracy. "The gardeners' favourites at risk from Brussels rules," the headline goes.
According to the piece thousands of British plants - among them types of lavender and catmint - could be banned from garden centres "under European proposals that horticulturalists fear will leave the plant trade bogged down in bureaucracy".
The Daily Mail is on about bins again. "Homeowners who fail to sort their rubbish into the correct bins are to be red-carded by their council."
It's a no-brainer for the Daily Star. Big Brother might not be on our screens but why should that cut off their most productive source? "BB Lauren: My Secret Flings With 3 Stars."
Over at Metro Justin Bieber commands page three. "Can you Belieb he's here?" the headline asks after Bieber jumped into the ring with boxer Floyd Mayweather Jr.
Meanwhile the Sun has an exclusive extract from Vinnie Jones's autobiography headlined "John Travolta saved my life - star stopped me doing mad stunt." Nuff said.
Ah, so reassuring to hang out with old friends. It's the newspaper equivalent of comfort food.