Caption Challenge: Neigh way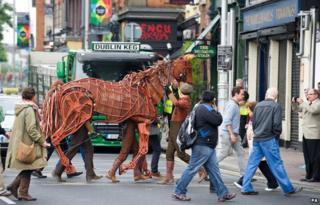 Winning entries in the Caption Challenge.
The Caption Challenge has now closed.
This week, the star of the National Theatre's production of War Horse walks through Dublin.
Thanks to all who entered. The prize of a small amount of kudos to the following:
6. nk:
National Black Velvet.
5. Nick Rabin:
"Get off your horse and drink your Guinness."
4. Felicity Holden:
"Oi, that's ZEBRA crossing mate."
3. Jan Daniells:
You can lead a horse to water, but he'd much prefer a pint.
2. Jurek Wozniak:
Damien Hirst artwork makes a bid for freedom.
1. Eddie Haskins:
"We found it buried in a car park in Leicester."
Full rules can be seen here
[16KB]