The Loop: Walk, don't walk...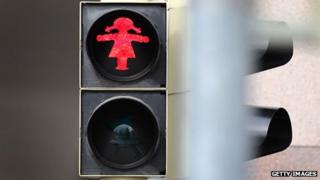 Welcome to The Loop, the Magazine's letters column, including the best of your thoughts from Twitter and Facebook.
Blues legend Robert Johnson's Cross Road Blues may not have had anything to do with crossing roads - but the title of the 1936 classic sums up how many people feel now they know that in many instances, pressing the button on a pedestrian crossing makes no difference whatsoever.
One of the Magazine's most-read stories revealing that a large number of crossings around the UK are automated during the daytime was widely shared on Twitter. One of those who did so was the Times' Caitlin Moran. The Times itself followed up the story on Friday.
In his follow-up, Radio 2's Jeremy Vine focused on the fact that it can take up to two minutes before the lights change, by sending reporter Julia May-Brown down to one London crossing to see how much of Samuel Taylor Coleridge's Rime of the Ancient Mariner she could recite before being able to cross the road. It was a long time - but not long enough to get to the bit where the albatross appears, Vine noted. In all fairness, that is verse 16.
Tobi Frenzen made this point on Facebook: "As a commuting cyclist I find it even more annoying when people DO press the button but then immediately proceed to walk on red anyway. Almost daily I witness this and other road users then have to wait at that crossing for no reason 2 minutes later."
Mat Jaggard felt the "article completely missed the main problem". He added: "We all accept that some lights are complex and hard to get right, but the standalone ones NEED to change immediately when the button is pressed (unless it's already been pressed within 2mins)."
And for those who reckon that jabbing the button continuously might speed things up, here is some advice from Andy Marson: "For my sins I am in the TL (traffic lights) business and face it people the only way to guarantee a green man is to press the button. However only press it once as pressing several times does not and will not make the green man come any faster FACT!"
Listen to the man, he knows what he's talking about.
The remarkable story of Robin and Chachi Valencia, husband and wife human cannonball team, naturally inspired a number of one-liners on Facebook. They are certainly on a par with Magazine Monitor's weekly Caption Challenge: "Chachi... you're fired!" (thanks Ian Wilson), "Going great guns it seems," (nice one Candace Sleeman), Someone has to bite the bullet and do it... (thumbs up, Jon Burfoot).
It was a trip down memory lane with an article on 1970s hyper-local television stations. They weren't everyone's cup of tea - after all pub darts and cub scout meetings don't make for riveting viewing (unless you're watching paint dry at the time). But Magazine rummaged around in the archives and found an old Horizon documentary featuring Greenwich Cablevision - a local TV station run from a basement in south-east London. Molly Monckton, a local poet from Blackheath, featured in the output. The Greenwich Phantomblog, subsequently, couldn't get enough of Molly, "a fabulous character with horn-rimmed glasses, lurex dress, silk corsage, bouffant hair and a true TV personality". Jackanory, it said, "missed a trick there".
Chris Napier emailed to share his memories of a local Bristol channel: "Fred Trueman did a pub quiz show on the Redifusion Bristol channel. The opening shot was a close-up on a dimple pint mug. The mug was in crystal clear focus but of course Fred, sitting behind with pipe was tastefully out of focus. Being the cameraman for this opening shot it took ages to set up. We went live and at that very moment somebody took the mug away and started to drink from it, leaving the all important opening shot of Fred and pipe out of focus... badly! Good fun." Glad to hear it.
The Magazine article referred to Lanarkshire Television, which included a "local constable appealing for witnesses in a small-scale version of Crimewatch."
Step forward Craig Ritchie, who emailed to say that HE was that constable.
"We used to do it every day. I would talk about local incidents, ask for witnesses, and give crime prevention advice. I remember during a fatal gas explosion in Larkhall, we had more information than the national channels! I also remember recording a Christmas special, where I was on the couch with [presenters] Shereen (she briefly became a weather girl on ITV) and Max. I ended up telling jokes from Christmas crackers! It was a really happy time, and was filmed in an old mental hospital. I'm now retired, and wish I had kept some of the recordings."
Tune in next week.