Caption Challenge: Downward dog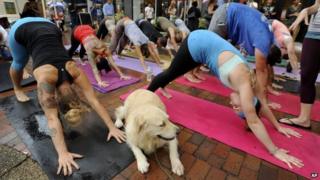 Winning entries in the Caption Challenge.
The Caption Challenge is now closed.
This week, a dog sits amid amid an outdoor yoga session in Jacksonville, Florida, USA.
Thanks to all who entered. The prize of a small amount of kudos to the following:
6. Abigail Park:
"That's it... Bit more... You'll get the hang of this four-legged walking lark eventually".
5. Dave P:
Goldie's new human obedience training classes were going a storm.
4. Rob Falconer:
When the instructor dropped out, the dog took the lead.
3. Lin Vegas:
"Not bad, but let's see you go through a tunnel, up the see-saw and over a hurdle against the clock."
2. Adrian Wade:
"...And paws."
1. Kevin:
"You do 'downward dog,' I'm doing 'human in front of telly.'"
Full rules can be seen here
[16KB]