Paper Monitor: Jolly hockey sticks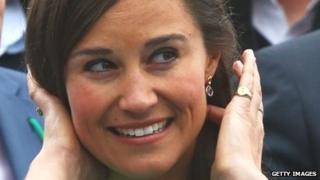 A scoop in the latest edition of the august Spectator magazine is followed up by virtually every newspaper this morning.
What is this agenda-setting article - a thundering denunciation of EU bureaucracy? An expose of high-level government malfeasance?
No. It's a feature by Pippa Middleton, sister-in-law to the second-in-line to the throne, about her memories of playing team sports while a teenager.
Pippa has fashioned a lucrative writing career in recent years, landing a column and the title of "contributing editor" at Vanity Fair and reportedly earning a £400,000 advance for her much-parodied book of party tips.
Paper Monitor is, of course, in no way jealous that Ms Middleton has managed to ascend to the very apex of journalism without having to serve a lowly-paid apprenticeship covering proceedings at provincial magistrates courts and knocking on the doors of the recently bereaved.
Who could begrudge any wordsmith with the craft and wherewithal to construct the following passage: "Hockey was my favourite: I was captain and proud. But all good things come to an end, and hockey ended with the Christmas term."
The combination of pathos and longing for times past betrays the influence of Proust.
But it's not just hockey she recalls with fondness. Pippa was apparently a keen netball player, too.
"My petite physique enabled me to nip and tuck my way past the bigger-chested girls," she trills.
What's that sound? Why, it's a million copies of the Daily Telegraph rustling in shaking, middle-aged, male hands the length and breadth of the home counties.
Of course, it's not just the Telegraph which follows up the story.
The Daily Mail seizes on a reference to Pippa's "fanciable hockey coach Mr Markham".
The hapless Mr Markham is tracked down by the Mail and his career history, marital status and current whereabouts are all forensically revealed.
It's an impressive feat of reporting. Presumably Pippa Middleton, journalist extraordinaire, is conversant with such investigative techniques herself.