Paper Monitor: Summer loving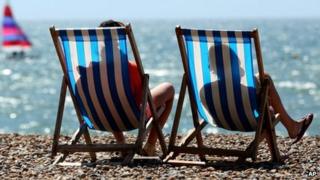 It's September, it's still sunny, and the papers can't quite believe the UK's luck.
The Daily Express can barely contain its excitement.
"86F and another week of summer sun," it exclaims, bringing news that despite 1 September marking the first official day of autumn, the UK is set to swelter.
The long, sunny summer has not only brought a feel-good factor to the nation, but it's boosted British tourism, it goes on to say.
Even Britain's apple crop looks likely to benefit. "Outlook is rosier for tasty apples. Growers report more sugar and juice content," it reports.
Meanwhile other papers are speculating about a possible Indian summer.
"September's shining start... so is an Indian summer on the way?" the Daily Mail asks.
Then there's the all-too-familiar picture of a packed Bournemouth beach. At least it's not Brighton.
The Daily Mirror also reports the UK is set for a scorcher. "Weather watchers have some red-hot predictions," it says.
Of course the UK wouldn't be the UK unless someone saw the seemingly endless summer sun as something to moan about.
Step up the Sun.
"The Wet Office. Bumbling Met predicted a washout summer," is its headline.
That's because on 24 May the Met Office said June, July and August would be a "near-to-below-average" 14.2C, according to the paper. Temperatures actually averaged 15.2°C.
Paper Monitor isn't going to go there. It's looking forward to heading to the park at lunchtime already.