Paper Monitor: Beside the seaside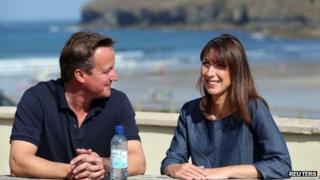 Long lenses and sand are rarely a dignified combination.
Paparazzi beach shots are a staple of the newspapers' summer - stars of stage and screen snapped either "flaunting their curves" or "showing off their bikini beach bod", to adopt the vernacular of the Mail Online Sidebar of Shame.
Today a well-known public figure appears in beachwear on the pages of most newspapers.
That celebrity is Prime Minister David Cameron, and the First Lord of the Treasury's frame is given the same kind of treatment by Fleet Street's caption writers normally reserved for Peter Stringfellow, say, or Antony Costa from Blue.
One of the images shows the PM using a Mickey Mouse beach towel to conceal his modesty as he struggles into a pair of shorts.
"He may be responsible for solving many of the problems facing the country," writes the Daily Telegraph, "but David Cameron showed that even he has no answer to the age-old conundrum of how to change gracefully into a swimming costume while on the beach."
Others focus on another picture of a topless Mr Cameron.
"Economy isn't growing, but the PM certainly is," crows the headline in the Labour-supporting Daily Mirror.
Most of the coverage, however, is sympathetic - no doubt a result of the fact that most of the writers commissioned to cover the story are male, and British journalism is not overpopulated with men who call to mind the idealised bodies of Hellenistic art.
Paul Harris of the Daily Mail worries that Mr Cameron "may have already spent too much time in the glorious Cornish sun, for he revealed a painful-looking dose of sunburn". The prime minister has also recently complained of a bad back.
Paper Monitor fears that he may have found a new source of discomfort when he flicked through the latest press coverage.