Caption Challenge: Lone protester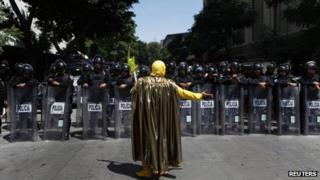 Winning entries in the Caption Challenge.
The Caption Challenge is now closed.
This week it's a lone costumed protester in Mexico.
Thanks to all who entered. The prize of a small amount of kudos to the following:
6. Matt Whitby:
"Who you callin' yella?"
5. Joe Welsh:
"The theme for the party was riot police? Well now I feel stupid."
4. Joe Marshall:
"And if you look to my right, gentlemen, you'll see that my imaginary friend isn't scared of you, either."
3. Michael Horn:
"OK, so I shouldn't have dialled the emergency number, but if you happen to see him, he's black and white and his name is Fluffy."
2. aberdeen_girl:
"Gentlemen - thanks for waiting in such an orderly manner. I now declare this donut shop OPEN!"
1. Terry Lewis:
"Surely one of you could have found a construction worker or Red Indian costume?"
Full rules can be seen here
[16KB]