Paper Monitor: Pet sounds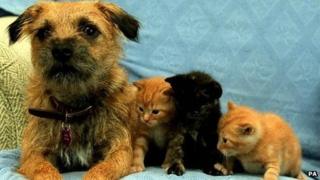 It's raining cats and dogs.
There's a bit of a shaggy dog story in today's Daily Telegraph. A shaggy cocker spaniel story, to be precise.
Readers can hardly fail to have spotted the washed-out photo of the Duke and Duchess of Cambridge posing with their new son, George, and their pet cocker, Lupo, that has appeared in every news outlet over the past couple of days.
The Telegraph knows its readership well, and it understands they will want to know more about the dog.
So spaniel-owner Peter Stanford is commissioned to write a long feature about how the breed tends to adapt to the arrival of a baby in the family pack.
Stanford insists the breed is well-suited to young children. When a visiting five-year-old stubbed her toe on a recent family holiday, he says, his cocker spaniel provided a "soothing massage with her sandpaper tongue that was every bit as successful at drying the tears as an Elastoplast".
These reputed healing properties make Paper Monitor think it might be worth heading down to the local pet shop rather than the pharmacists next time this column needs to replenish its first aid kit.
But wait. The Daily Mail has a rather different account of animal companions.
"HELP! MY CATS ARE TRYING TO KILL ME," screams the headline, above a feature composed by no less authority than Amanda Platell, one-time press secretary to the leader of the Conservative Party.
The banner is perhaps a little misleading. Platell recounts how she broke an ankle and cracked a rib after falling down the stairs twice in separate feline-related accidents (Paper Monitor thinks its somewhat unfair to blame these on the cats, but decide for yourself).
Nonetheless, these two differing portrayals of pet ownership will no doubt be studied carefully by President Barack Obama, who has taken delivery of a new Portuguese Water Dog named Sunny.
According to the Independent, the West Wing's latest canine is "cute and fluffy and full of energy". It doesn't say anything about whether its tongue acts as a substitute for TCP.