Paper Monitor: When boring is exciting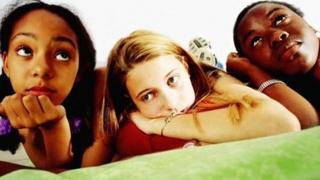 There is good boring and there is boring boring.
Yesterday Paper Monitor observed yet again that annual ritual of the British summer season, the jumping A Level results girls.
Today's Times seeks to redress the balance. The paper's front page features a couple of dozen school pupils striking Usain Bolt-style poses in celebration of their exam performance. All are male.
It's a valiant effort. But there is a weary knowingness about the event now.
The Daily Telegraph's Dan Hodges writes: "Today is A Level results day. It is also national 'it is obligatory to tweet your distaste at the fact the newspapers and broadcasters focus on attractive, blonde girls to illustrate their coverage' day."
Several years ago, pointing out the manner in which the media covers this routine story was "a cute and witty observation", says Hodges. Now it has become a cliche, he argues.
The paper nonetheless has an online picture gallery of jumping female scholars.
Commentators wishing to avoid the trite and hackneyed could do worse than examine that paper of record, the Dorking and Leatherhead Advertiser.
Its most recent edition carries a story that rejoices under the headline: "Unremarkable men walk 40 miles for no particular reason."
The paper frequently carries stories about lengthy bike rides, hikes and rowing expeditions, all for a good cause.
"But not this week," the report continues. "This week, a group of seven unremarkable, middle-aged men walked a long way for no reason. None whatsoever."
Rejoicing in "such solid British names as Chris, Ian and Simon", a group of Dorking residents picked a "meaningless" route and walked 40 miles "just because they could".
According to Ian Giles, who serves as a spokesman for the walkers: "There was a brief conversation between us about possibly doing something for charity but that quickly turned to, 'why don't we just do something for ourselves? Can men not just walk together in fellowship anymore?'"
Reporter Oliver Frankham describes their progress: "Starting beside a groyne on Shoreham beach at 6am, the group slogged their way along the Downs Link path via Cranleigh and Holmbury Hill, averting their eyes from interesting sights as they went."
Eventually they reached their destination "to the acclaim of no-one".
The article is a triumph. People tweeting about 2014's A Level results take note.
MONITOR NOTE: The Loop is taking a holiday and will return next week.