Caption Challenge: Head bangers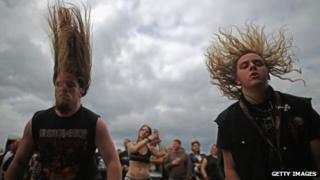 Winning entries in the Caption Challenge.
The Caption Challenge is now closed.
This week it's two men head banging.
Thanks to all who entered. The prize of a small amount of kudos to the following:
6. rogueslr:
And the first to let go of the electric fence loses.
5. Catherine O:
Jedward's "Ace of Spades" earns mixed reviews.
4. Ken Taylor:
I washed it this morning and now I can't do a thing with it.
3. Bruce Bendall:
Are you sure you are a qualified electrician?
2. Simon Rooke:
Once you've shaken them loose, you just stamp on the little blighters.
1. Mark Bray:
The heavy metal magazine didn't follow the normal etiquette for A Level celebration pictures.
Full rules can be seen here
[16KB]