Paper Monitor: Red like cockerels?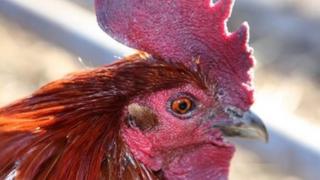 Magazine Monitor touched on the controversial topic of men wearing red trousers last week.
Today, Daily Telegraph letter writers have taken up the mantle.
Never shy of intellectualising a debate, some look to military history:
SIR - 11th Hussars... were one of five regiments involved in the Charge of the Light Brigade. They were known as the "cherry pickers" because of their red trousers and because they hid in cherry trees to avoid detection by the French in the Peninsular War.
They were also known as "cherry bums" by their one-time commanding officer, Lord Cardigan, who commanded the brigade at the Charge - writes Chris Harding, from Parkstone, Dorset.
Frans Lohman, from Louth, Lincolnshire, has another take:
SIR - I read in Barbara Tuchman's masterful book, The Guns of August, that the former French minister of war, Adolphe Messimy, had tried to change the uniform of the French army in the lead-up to the First World War. This involved the red trousers worn by French soldiers for many years - after all, the British had changed to khaki after the Boer War and the Germans had changed to field grey.
At a parliamentary hearing in 1912, however, one of Messimy's predecessors, Eugene Etienne, cried: "Eliminate the red trousers? Never! The pantalon rouge c'est la France!" So the French soldiers marched to battle in 1914 in bright red trousers.
"That blind and imbecile attachment to the most visible of all colours," Messimy wrote afterward, "was to have cruel consequences."
Not all letter readers turn to the triumphs and pitfalls of military history to reflect on the pros and cons of crimson legwear however.
Diana Crook, of Seaford, East Sussex, opts for simple aesthetics:
SIR - All the members of the American Youth Orchestra that recently played at the Proms wore red trousers. And very smart they looked, too.
While Martin Atkinson, of Bewdley, Worcestershire, thinks it's a question of quality:
SIR - Red, or pink, trousers are not exclusively for the summer season. I have an excellent pair of high quality red moleskin trousers from Pakeman Catto & Carter that I look forward to wearing during the autumn and winter months.
Finally, Michael D L Roberts, of Crediton, Devon, has another thought altogether:
SIR - Men are only imitating cockerels, which in breeding condition have red on their legs.
Paper Monitor isn't going to go there.