Paper Monitor: Beyond Fleet Street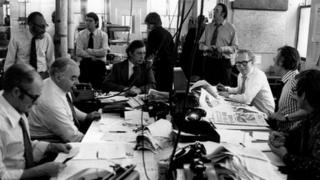 Paper Monitor doesn't want to neglect the riches of the evening press.
The UK's regional newspapers ferret out many of the stories the nationals follow up the next day. Evening titles covering the nation's cities are carefully scoured by Fleet Street journalists for follow-ups.
Paper Monitor salutes them - and, having been distracted with sundry other tasks this morning, turns to today's various Late Night Finals.
Newcastle's Evening Chronicle has a heartening tale about a couple who bet £50 at 100-1 that they could lose 10st (53.5kg) between the two of them in six months.
Sure enough, Barry Penaluna and Helen Drinkall slimmed down from a combined tally of 40st 12lbs (259.5kg) to 30st 6lbs (193.2kg), winning £5,000 from William Hill.
The South Wales Echo has an extraordinary showbiz scoop - none other than Lady Gaga was photographed taking the bus in Cardiff.
Except it wasn't Lady Gaga. It was an impersonator named Donna-Marie, who nonetheless turned heads as she sat on the number six service to the Bay.
Paper Monitor's favourite, however, is in the London Evening Standard.
Recently the paper ran black and white photographs from the 1970s of skateboarders at the city's South Bank.
One of the skateboarders, 50-year-old Mark Slough, recognised himself in the pictures and got in touch with the Standard, which sent a snapper to record him recreating his old moves nearly four decades on.