Why do people mock men in red trousers?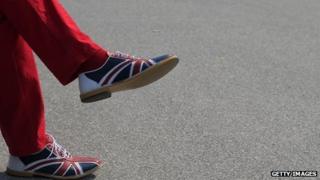 Almost half of Britons don't like seeing men wearing red trousers, a survey has suggested. Why does the garment provoke, asks Jon Kelly.
According to a study by pollsters YouGov, 46% of the population don't like the trend, with 24% really not approving "at all".
The report found that words commonly associated with the trend include "idiot", "yuk", "clown" and "prat". Only 12% have a favourable impression.
But red trousers are everywhere. Visit many parts of the UK and it won't be long before you spot a male walking the streets in crimson legwear.
In the popular imagination, red trouser-wearing sits at a Venn diagram intersection between hipsters and the upper classes.
Sold by fashion outlets as diverse as Urban Outfitters and Boden, the garment is equally familiar at east London raves and agricultural equipment fairs in the Cotswolds.
Perhaps because they signify membership of an elite - whether that is being a hip east London trendsetter, or having inherited hundreds of acres of arable land - a backlash has long been fermenting.
A blog - whose expletive-containing name cannot be reproduced on a family website - catalogues candid photographs of red-trousered men, and invites readers to laugh. The Guardian newspaper fumed that they signify those "utterly devoid of self-awareness but wealthy in idiocy".
For Lisa Armstrong, fashion editor of the Daily Telegraph, it's the brightness and ostentation that offends in a country where menswear styles are typically conservative and muted.
"It's just not a colour you expect to see on a guy," she says. "It's very hard to wear them and not look like a giant chilli pepper."
Perhaps Jack White - who regularly sported them in his old band The White Stripes - is to blame. More recently, Rio Ferdinand, Jonathan Ross, Tommy Hilfiger and Tinie Tempah have all been photographed in them.
These celebrity endorsements have done little to change attitudes beyond London, where a fifth of the population say they like red trousers. Only 10% of Midlanders and 9% of Scots approve.
For now, red trouser-wearers remain a misunderstood, if colourful, band of sartorial outcasts.